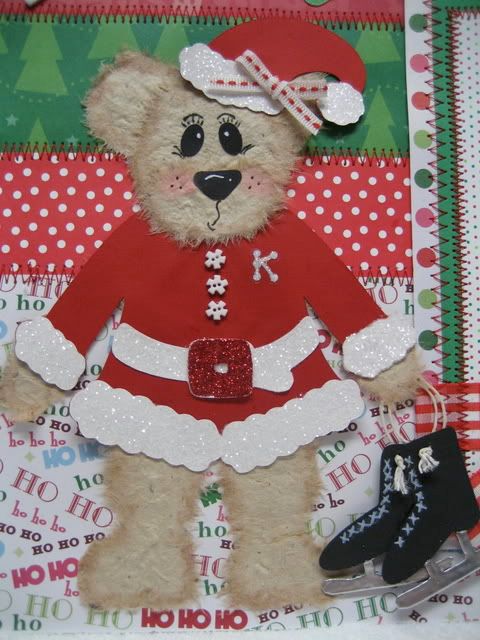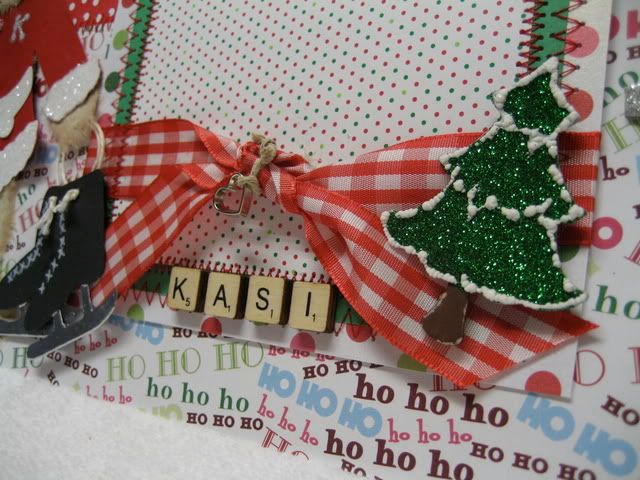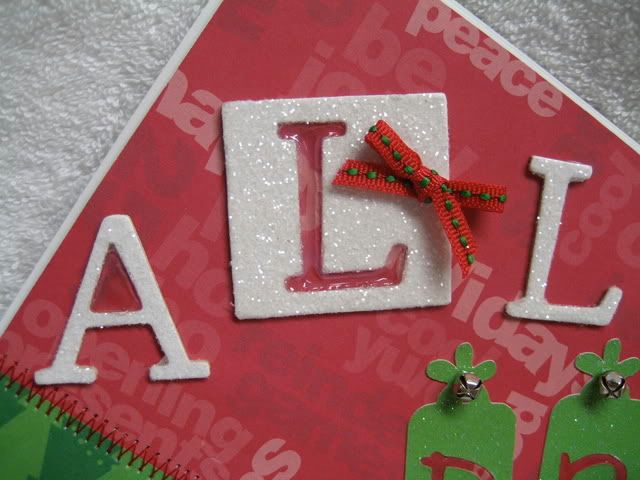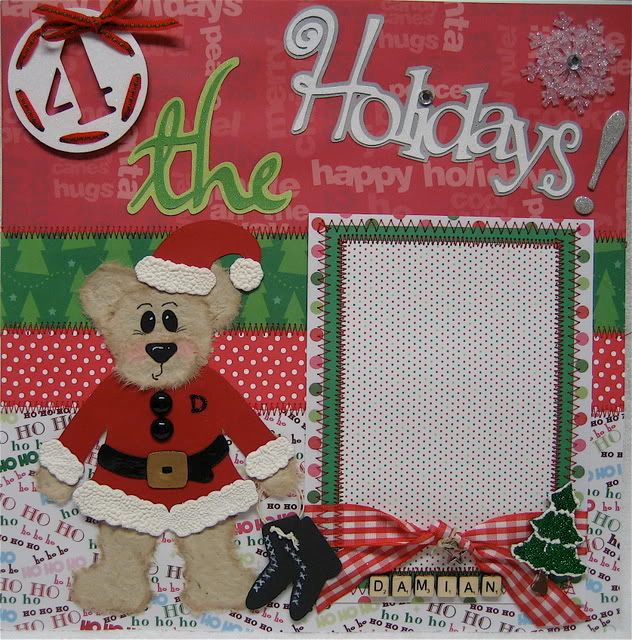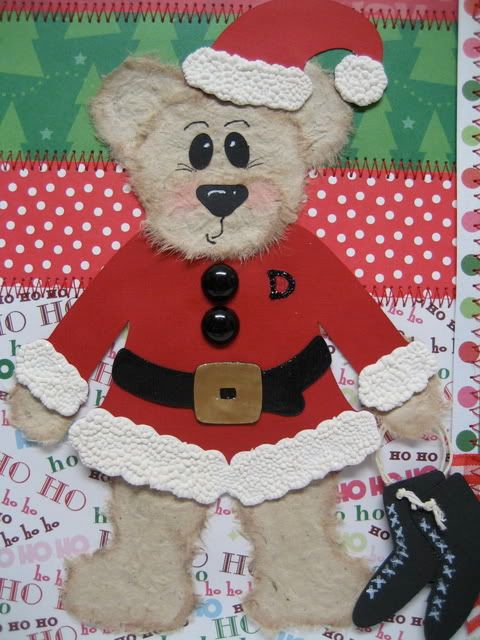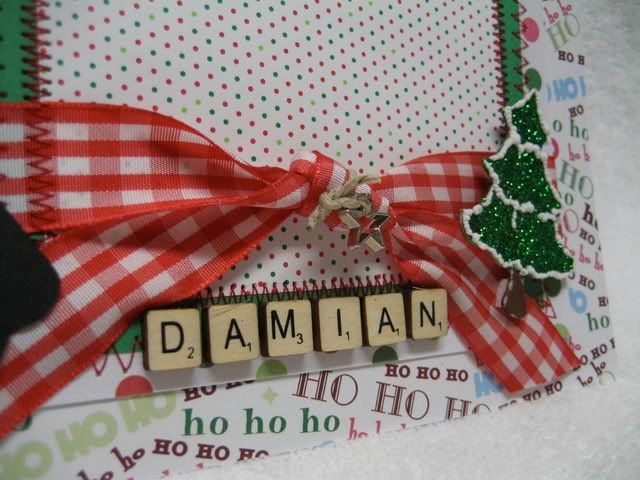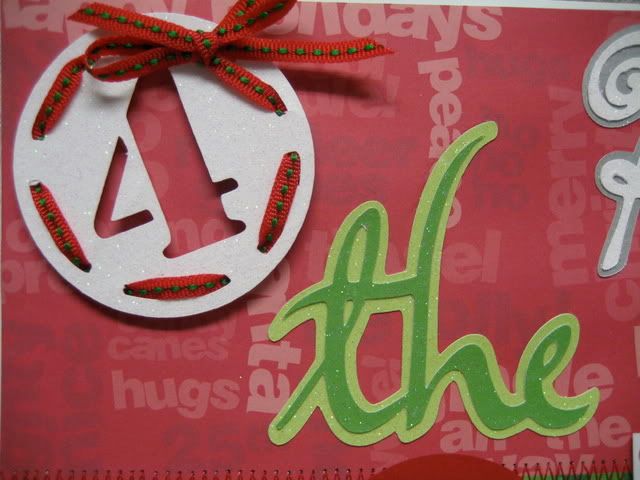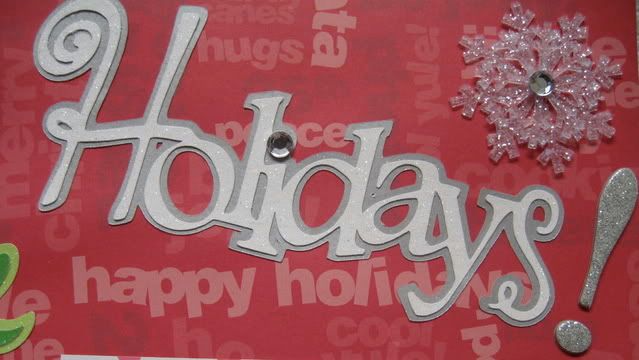 This weeks BBTB challenge was to do something with the Santa Suit from the Christmas Cheer cartridge. Every year during the holidays, I take nice pictures of the kids so I decided to make a double page spread using tear bears dressed up in the Santa suit.
Kasi said she wanted her bear to have ice skates instead of boots so I free handed the blades and attached them to the bottom of the boots - it turned out perfect. She also told me that she wanted the bear to be holding the skates since the feet were to big for the boots.
So for the materials:
Printed paper varies: Doodlebug, DCWV Christmas stack and glitter mats
Tear bears which measure almost 7" each
Santa Suit: Christmas Cheer
"ALL" is chipboard letters from CTMH and glittered with Martha Stewart glitter
"DRESSED" is from All Mixed Up - flower tags - added tiny jingle bells to the middle of the flowers and used Liquid Glass to accent the letters
"UP" are glitter chipboard letters from Kurio (bought them at Walmart)
"4" is from Mini Monogram - stitched circle and I laced it with ribbon - also put 3d squares
"THE" is from Jasmine
"HOLIDAYS" is from Joys of the Season
Snowflakes are Heidii Swapp ghost snowflakes also covered with MS Glitter
"!" is also glitter chipboard letters from Kurio (bought them at Walmart)
Ribbon - Offray
Scrabble letters are from EK Success
Small Christmas trees is a Medium die from Sizzix also covered with MS glitter and then added Liquid Applique for the snow effect.
The girl Santa suit has MS glitter in white and red for the buckle - misc tiny snowflake buttons and the "K" is a white stickler letter covered with stickles - Her skate blades are covered with silver heat embossing
The boy Santa suit has Liquid Applique for all the white - black craft buttons, the belt is cut in black and covered with liquid glass to make it shine and the gold buckle is done with heat embossing. The "D" is also a sticker covered with stickles. He is holding boots and not skates - Kasi said the skates were more girly :o)
The charms are from J's - sewing section.
ALL THE CARTRIDGES THAT I USED AS WELL AS THE STICKLES AND SIZZIX CAN BE FOUND OVER AT HALLMARK SCRAPBOOK.
Hugs to all,
TeriBeri