Here I am.....it's Saturday night.....I am trying to recuperate from yet ANOTHER migraine!!!!! I missed my very good friends annual tree trimming party due to my 4 hour nap because of the migraine. Feeling a little better now (thank God) so I decided to make this pillow box since I am falling behind on my projects.
The pillow box is one of many beautiful boxes my sis Regina designed for
THE CUTTING CAFE
. The girls over there have really done beautiful project with her designs so make sure and check them out.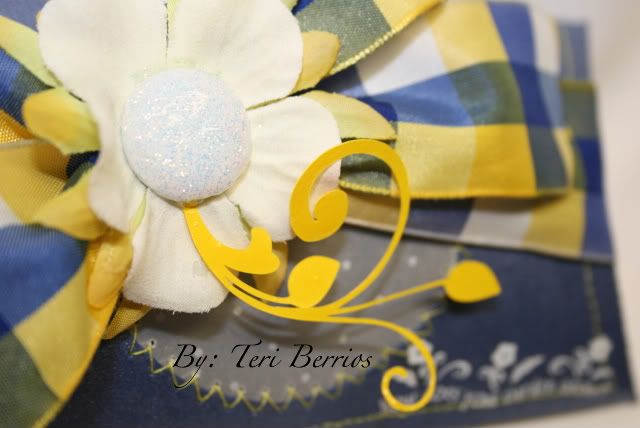 I wanted to make this project different. I am not to much of a BLUE person so I wanted to challenge myself. I love the blue, yellow and white combination of this project.
This Pazzles machine is just so ................... hhhhhmmmmm ..................... PAZZLE-ISH-OUS!!!! (Wink - DeeDee we haven't said this is a while - hehehehe) I have been trying to figure it out little by little. The other night I downloaded the SWIRLS font from
ScrapNFonts
and I used one of the swirls for this project.
Here are some of the things I purchased from
HALLMARK SCRAPBOOK
:
PAZZLES MACHINE
Prima Flowers
Diamond Stickles
Diamond Glaze (I put it over the yellow swirl)
They still have an amazing sale of the Cricut cartridges so stop by and check it out!!!
My sweet friend
KATE
(and fellow Hallmark Ladybug designer) has inspired me with her "Flower Middles". Not only did she explained to me how she makes them, she mailed me samples of the different techniques and different brads she uses. Her work is totally awesome - thanks KATE!!!!! One more thing.....the swirl cut was also inspired by the swirls you use on your amazing layouts - thanks again for all your inspiration.
Hugs, T