WOW - I am finally finished with my SIL's baby shower party favors. Next will be my daughters First Communion Keepsakes so stay tuned for that - you are going to LOVE it.
I made my SIL a guest sign in book in the shape of a Lighthouse which I cut using my new LIFE'S A BEACH Cricut cartridge that I got from HALLMARK SCRAPBOOK. I also made her 60 sour cream containers and the tags were made using the Pooh and Friends Cricut Cartridge. Finally I made her 60 menus for the guests. The anchors were cut using the Martha Stewart punch because those were made prior to me ordering the cartridge. Here is a picture with all the projects:
The Lighthouse Guest Sign in Book: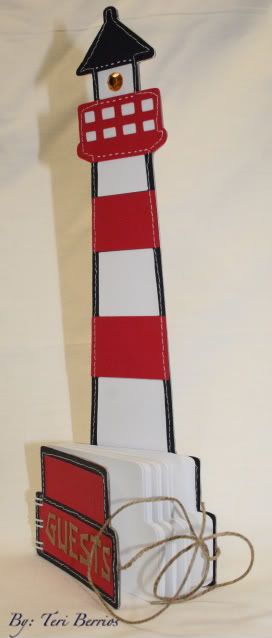 The lighthouse was cut using the FIT TO PAGE button and with the blade at 2 and med pressure so that it does not cut all the way out (I cut this pattern out in white 2 times). Since there is no BLACKOUT or SHADOW feature for these cuts, I had to made a pattern this way. Once cut, I glued it to a piece of chip board and hand cut it out.
After I had the base all done, I then cut the Lighthouse out in the colors (red and navy) using Bazzill Cardstock. Once I cut out all my pieces, I glued them to the other pattern and did some sewing, added my yellow rhinestone, added the hemp that ties the book and then glued it to the base part of the book (chipboard).
For the pages, I designed the bottom part of the Lighthouse using my Design Studio and the rounded rectangles in the George and Basic Shapes cartridge - the size was just trial and error......I must have cut them out about 5 times before I finally got the exact size but once I did, I just had to cut the 38 pieces. I did the cover of the book out of chipboard using the same technique as I did the base of the book.
The letters are also from the Life's a Beach Cartridge.
Sour Cream Container:
The tag is done using 2 square scallop punches and then using my Pooh and Friends cartridge, I cut the sailboat square tags....they are sooooo adorable!!!! I added a brad and tied it to the container.
The nautical theme is one of my favorites.....
I hope you liked all the projects.
Hugs, T