I has such a beautiful Mother's Day!!!!!! My husband and my kids are my LIFE!!!!! I hope you all enjoyed it as much as I did.
So....my brother and his wife just bought their new home together so I decided to make them this hanging frame for their door. When I first started this weeks BBTB challenge I had NO CLUE what I would do, then when I saw that smiley face looking at me, I knew I wanted to make a sign that said ENTER WITH A SMILE :o)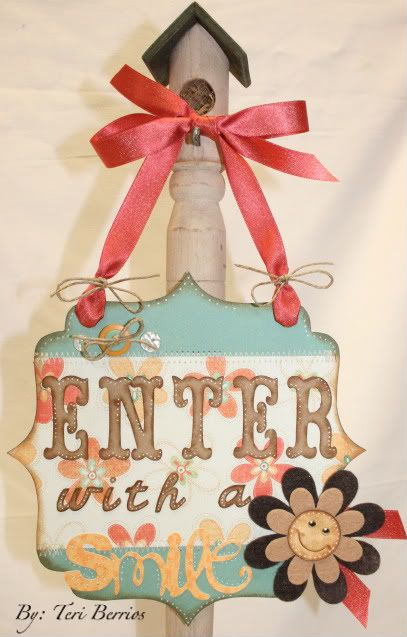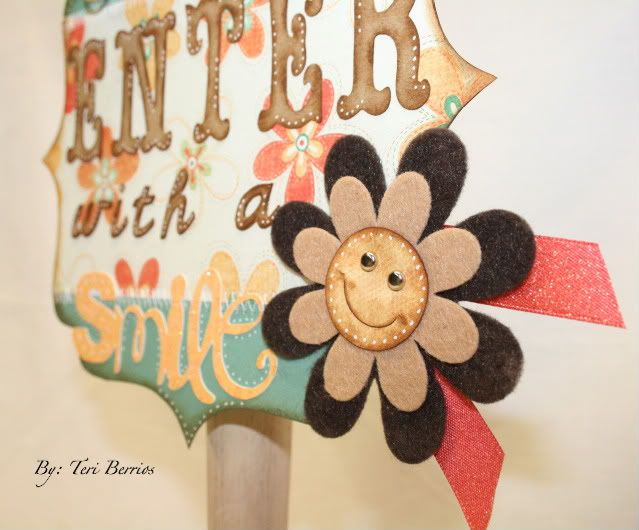 Materials:
Cardstock: CTMH
Pattern Paper: My Mind's Eye (Bloom & Grow); Doodlebug glitter
Die Machines: Cricut Expression; Big Shot
Cricut Cartridges: Storybook (ENTER); Cursive 101 (with a); Mini Monogram (Smile) and Wild Card (for the smiley face)
Pen: White Sakura gel pen
Fabric: Felt
Die: Sizzix Hello Kitty Daisy Flowers die
Ink: Tim Holtz Distressing Ink
Brads: CTMH
Buttons: MM (Cloe's Closet collection)
Hemp
Ribbon: American Crafts Premium Ribbon
The frame is cut by hand using a PDF file from
SHORTCUTS
.
For some of the other amazing projects be sure to visit the BBTB by clicking
HERE
.
Hugs to all,
T