So are you ready for another ADORABLE stamp set?????? Well check this out..........the New Hearts and Hugs Collection #2 for
Susana's Custom Art and Card Design
by Victoria Case coming out tomorrow!!!! That's right - TOMORROW and you will love them ALL!!!!
The SCACD design team will be giving sneak peeks today and tomorrow to show everyone this fabulous collection. OK so for my Thursday sneak peek, I had to use the cute little SUSY stamp....isn't she CUTE???? The pattern papers and brad are from the
Basic Grey Lemonade Collection
.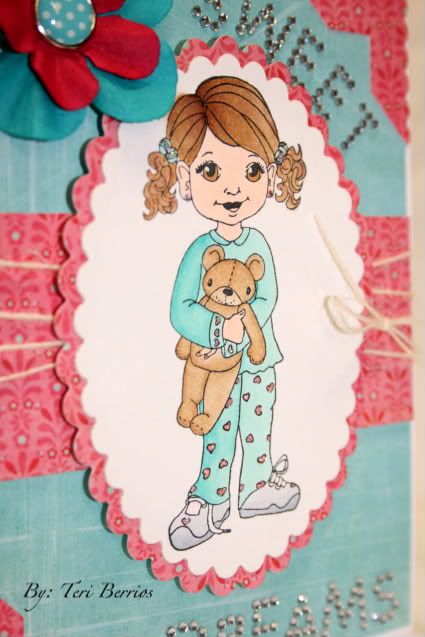 Other supplies: Diamond Stickles (for her earrings, hair ties and the hearts on her PJ's and Sneakers); Oval Nestabilities, Copics, Prima Fowers, PTI Twine, and those rhinestones letters are from M's but I don't know the brand.
Be sure to check out all the other SCACD designers blogs (listed to the right of my blog) so that you can see the entire Hearts and Hugs Collection #2 for SCACD by Victoria Case and remember that you can purchase these
HERE
tomorrow!!
In addition, the new code for the blinkie is up at SCACD. Even though the blinkie is the same, the code to the link is different so if you have a VC for SCACD blinkie on your blog, be sure to get the updated code so you can have the correct link.
Have a beautiful day!!
Hugs, T